Welcome to our world of Hollywood Halloween Costumes Magic Tricks, Magician's, Make-up, Hats, Wigs, Beards, Santa Suits.
If you ever visit New York please feel free to stop in and have a fun time. With over 10,000 items to choose from — Ronjo's has something for everyone. We have been serving Long Island With a full line of Makeup, Wigs, Costumes, Hats, flash products and of course Magic. We want to be there for you every step of the way and help you grow your skills in magic. Whether you are professional or like doing magic as a hobby, we feel strongly about making sure you get the right product for your show and our staff will help you pick the right choice for your level of performance.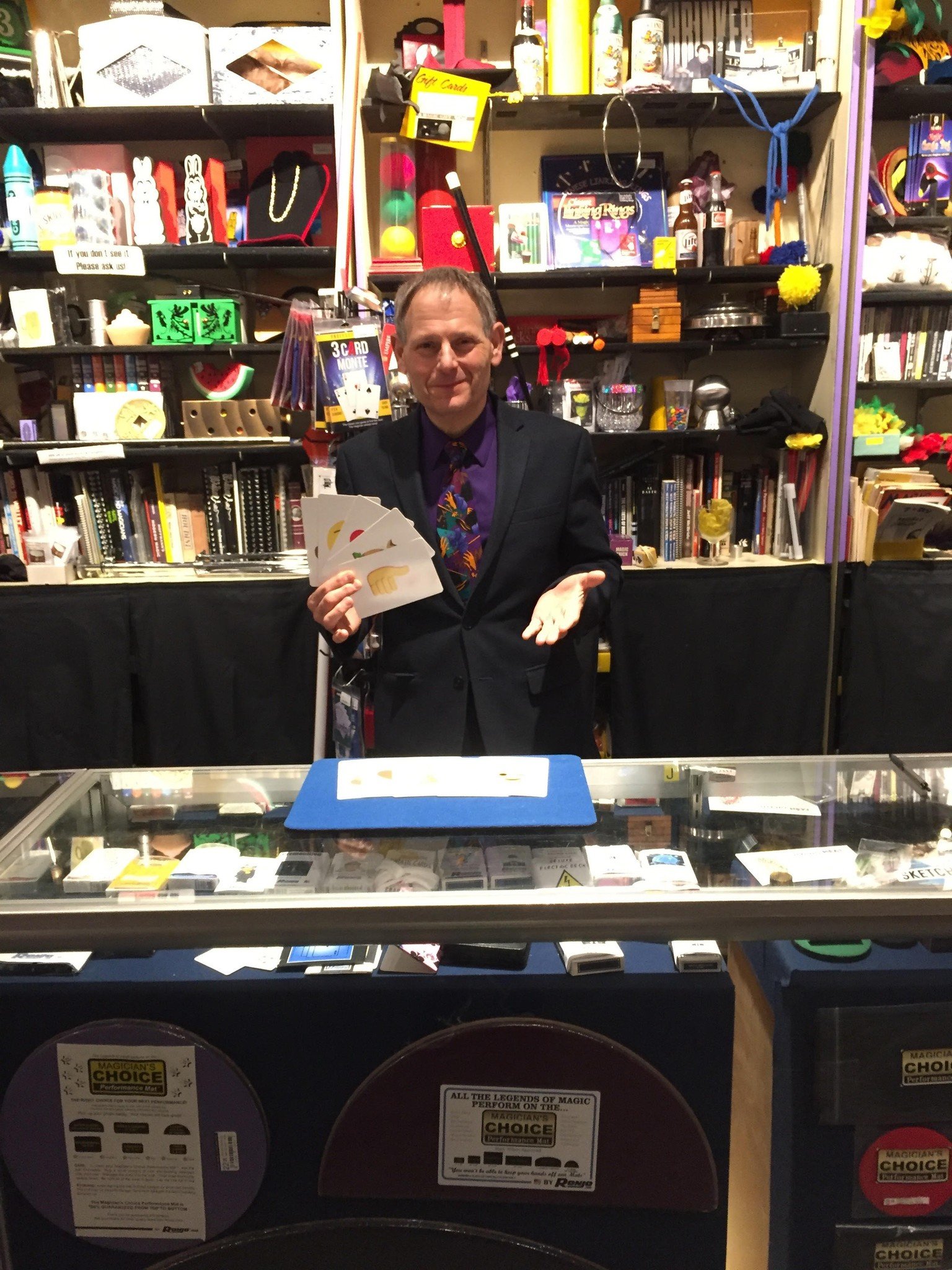 Ronjo started in 1974 with a passion to please and entertain everyone with his magic shows. It was this passion that led to the birth of Ronjo's Magic shop. What began as a single showcase is now a full-fledged Magic shop stocking over 10,000 items. Ronjo also produces our own product line ranging from close-up to parlor and stage magic. Emojination shown in the photo is one of our fun magic creations.
So when did the costumes and makeup come into Ronjo's? 
A few years after being just a magic shop we had a few performers ask us for our help selecting wigs, makeup, and costumes. We started to get more requests and the costume side of Ronjo started. We always picked the best of the best just as if we were buying it for ourselves. A few years later Halloween customers started to come in and customers loved what we had to offer. We like to think we are more like Hollywood than Halloween and we select our merchandise with the same feelings as always for our clients. From school plays to Broadway productions — we want to be part of your show and be your supplier for all your props.
In addition to selling magic tricks and Halloween costumes, Ronjo Entertainment provides professional entertainment and event planning services to clients in Nassau and Suffolk Counties. Some of our services include Magic Shows, Balloon Twisting, Face Painting, Costumed Character Visits, Fun Food Rentals, Bounce Houses and much more! For more information visit www.ronjoentertainment.com.
Thank you for stopping by and I hope we can meet or talk soon — Ron of Ronjo's
Ronjo's Magic Touch
by Gary R. Brown
Purveyors of magic come in three distinct varieties.  First, there are the proprietors of brick-and-mortar shops, the wonderful palaces of mystery where magicians can acquire new effects suited to their performing style, get valuable advice, attend events and meet other enthusiasts.     Second, web dealers offer convenience and competitive prices on magic gear.   Last, and perhaps most important, there are the creators who advance the art by producing new, innovative items to the magic marketplace.
Ronjo of Ronjo Magic is among the rarest of magic dealers, who has thrived as all three areas.   He operates a vibrant magic store – indeed the last on Long Island – which stocks over 10,000 items and serves as a studio, performance venue and meeting place for top magicians.   His website, ronjo.com, one of the most reputable on the web, provides a broad spectrum of effects, supplies and equipment to the trade.  And, remarkably, Ronjo continues to bring novel new items to the market, each with an attention to detail and quality that is so often lacking in the industry.
These remarkable accomplishments are powered by many years of hard-earned experience.   Ronjo, born Ronald C. Diamond, started his love affair with magic at age four, and he was performing magic professionally at 13.  In 1973, Werner Reich (an avid amateur magician and coauthor of The Death Camp Magicians), took young Ron and his mother to Tannen's Magic Jubilee at Brown's Hotel.  There Ron met Vacca Amadeo, who took on his services as an assistant, training the young man to perform and manufacture his effects.  Soon, Ronjo was skipping school every Friday to help Amadeo produce and sell his effects.  This arrangement continued until Amadeo's death in 1974.
Later that year, at age 15, Ronjo opened his first magic shop.  He sold 12 tricks, and offered lesson and shows, all from a two-by-four foot flea market booth.  By 1976, when he was only 17, he opened a nine-by-nine foot shop in flea market (remarkably, his original glass display case can still be seen in his current shop).
He later moved to Port Jefferson Station, where Ronjo's Magic now operates a much larger outlet, with a huge inventory of magic and an active costume business.  It features floor to ceiling shelves packed with hundreds of effects, glass display cases on every wall, draws stuffed with gadgets and gizmos of every variety.  It features a secret magic theater concealed behind a moving bookcase, where luminaries like Josh Jay, Rocco and, most recently, John Ferrentino and Joe Silkie offer magic lectures.  Every Saturday afternoon, the shop hosts a free magic show coordinated with local charity groups: community members crowd the place to see some terrific entertainment while magicians can work on routines and test out material.   Late in the summer, the shop undergoes a kind of magical metamorphosis – seemingly overnight, cleverly constructed reversing wall displays transform the space into a costume store in anticipation of Halloween, after which the magic stock miraculously reappears.
A Visit to the Shop
Like most great magic shops, for the enthusiast, visiting Ronjo's is great fun.  Customers mill about, practicing effects, trying out routines, exchanging ideas and honing their craft.  Ronjo and his staff are always quick to provide advice and offer solutions to problems.   On a recent visit, I described to the team a concept I had for a modified Boston Box – after years of considering the idea, I had begun negotiations with a specialized machinist to fabricate the item at great cost.    After hearing me out, Ronjo quickly (though kindly) explained that my method would be too easily detected.  He then recounted that Viking made a very similar item in the 1990s – but with an important difference – which produced a far better effect.  Better yet, he had one left in stock, which he sold me for the very same price it sold for in 1997!
But, make no mistake, running a dealership is serious endeavor.  On a recent evening, well after closing time, the shop hummed with the business of illusion.  Ronjo and store manager/magic specialist Pete Albertson (who appears familiar with, and able to locate, nearly every trick ever made), dashed about, climbing step ladders, testing equipment, matching pieces and rearranging things.  They speak to each other in a rapid-fire fashion, which to the uninitiated would seem like code.
"How many jackets do we have?" Ronjo yelled.
"Three, but we've got a bunch of manacles," Pete shouted from the back of the store.
"Don't worry, I've picked up enough padlocks," Ronjo countered.   "And they're all keyed the same."
The pair then checked a shipment of custom-produced items from a machine shop.  "Nice!" Ronjo observed, examining each one. "No, wait, this one is no good, it doesn't seal right.  It has to go back."   This is a dealership where quality counts.
Inventor and Creator
The changing marketplace, competition from the web and the ubiquity of knockoffs and cheaply-made versions of tricks has rendered inventing magic a thankless task.  Jim Critchlow -- a prolific inventor noted for his release of "White Star" – laments becoming "disillusioned" with the production of his inventions, such that he's abandoned such releases.  "To have items manufactured in the way you want is costly and sometimes not economical in small quantities , so you end up compromising on quality," Critchlow writes on his website.  "You can't win."
Knowing this, and having some first-hand experience in this regard, I was somewhat reticent when asking Ronjo whether he was still producing new products.    "Of course!" he said, incredulously, "I'll be releasing twenty new items this year, and have already done twelve of those."
So I challenged him to show me his best product.  Ronjo smiled.  "Let's start with this," he said, gesturing toward a performance mat.  I waited, expecting him to begin an effect.  But he didn't do anything, just resting his fingers lightly on the red cloth mat.
"What am I looking at?" I asked.
"The mat," he said.  "It's our Magician's Choice Performance Mat.  It's the best in the business."  I found this surprising.  After all, Ronjo has released hundreds of effects into the market.  And when given the opportunity to impress, he was showing me a mat?
But upon closer inspection, the reason for his enthusiasm becomes plain.  The Magician's Choice Performance Mat is a thing of beauty, with an incredible attention to detail.  Hand-made in the United States, these mats contain three layers of cushioning, yielding a luxurious touch that is difficult to describe.  Cards and coins glide silently and effortlessly across the surface, and virtually float into your fingertips.  Heavy gauge rubber backing holds the Velcro-compatible surface firmly in place.  The mats come in various thicknesses, colors, sizes and shapes for different applications, including traditional rectangles, semi-circles (cleverly designed to allow performance  on a display case without obstructing the view),  and small round mats, which not only "spotlight" close up tricks, but can be carried in your pocket.  The list of performers who have used and endorsed these mats is too long to reproduce here, but include Mark Wilson, Rocco, Eric DeCamps, Daryl, David Roth and Jim Swain.
Indeed, the attention to detail regarding the performance mats exemplifies Ronjo's approach to producing magic.  Take, for example, the Transformation Tube, one of his new, exclusive creations.  A finely machined capsule crafted from aluminum or brass, this Transformation Tube allows the performer to insert or pour in any small item, seal the canister, toss the unit into the air, and instantly make the item transform, change color, or simply vanish.  The workings of this diabolical unit, which I will not expose here, are silent, flawless and mystifying.  And it offers a feature that reflects Ronjo's insight – one "chamber" is rubberized, allowing the transformation of solid into liquid.  It offers endless possibilities.
Some of Ronjo's efforts focus on remastering classic effects, like his recent redesign of the Electric Deck.  Long a staple of low-end magic, he transformed this near-practical joke into artistry.  Using jumbo-sized cards (the first electric deck to do so), he reimagined the gaff such that the cards can move and flow in any direction – horizontally, vertically or even in a circular pattern.
While these new creations are enchanting, one of Ronjo's favorite items happens to be his oldest:  Amadeo's Lucky Light, a small box with three switches and three lights.   Lucky Light is an electronic shell game, in which three switches variously – and it seems randomly – operate one or more of the lights, or sometimes none at all, always under full control of the performer.  Ronjo learned to build these boxes directly from Amadeo, who invented the effect, and he still handcrafts each one.   Amadeo made these boxes from whatever components happened to be available at the time.  So, as an ode to his mentor, Ronjo makes the boxes of different materials and switches – such that each batch is unique.   And the effect is perplexing: I've held it, examined it, seen it performed numerous times, but cannot tell you how it works.  I can tell you that the unit is beautifully crafted and self-contained – no extra components or gimmicks are needed.   Further, as someone who owns and uses the incredible Wellington Magic Switchboard – a now-unavailable item that cost eight times as much – I can attest that Amadeo's Lucky Light packs a lot of mystery a small package.
So what about the items in development?  "Oh, we've got some things coming," Ronjo notes, smiling mysteriously.  "Can't tell you about them right now, but they're going to be big!"
Gary Brown is a magic writer and author of The Coney Island Fakir.