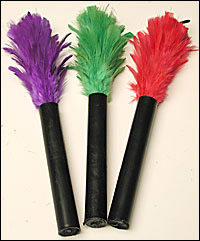 Place your order here:
Availability: Ships in 1-4 Days
Orders placed by 1pm EST usually ships same day
Estimated Shipping time
Prices, promotions, styles and availability may vary by store and online.
DESCRIPTION
The magician displays a plume of colored feathers with a small handle at the bottom. The magician passes the plume behind his back and it changes to a completely different color! The magician may then repeat the effect changing the plume back to its original color.
Includes three plumes.
Product Categories: Uday All Tricks Parlor, Stage Magic Illusion
Vanishing Bud Can by Bazar de Magia - Trick | Gloves to Bouquet by Uday - Trick