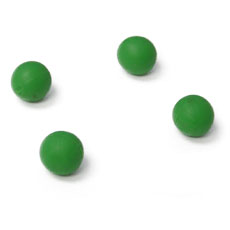 Place your order here:
Availability: Ships in 1-4 Days
Orders placed by 1pm EST usually ships same day
Estimated Shipping time
Prices, promotions, styles and availability may vary by store and online.
DESCRIPTION
These peas will work on any surface -- including glass and marble. They do not lose there grip over time or with use as do latex peas.
Unlike the latex peas, these are uniform in size and shape, making them much easier to switch in and out, and offering many new possibilities for obtaining peas from droppers.
These specific peas are magnetic allowing for several different shell game routines. Each pack comes with four magnetic peas.
Product Categories: Close Up All Tricks Gambling Magic
Customers who purchased this product, also purchased:
Ghost Bottle trick | Lip Smacker by Paul Harris - Trick